SUBWAY GAME RECAP: Sea Dogs Come Up Short in High Scoring Affair Against Cape Breton
The Saint John Sea Dogs (20-35-1-1) came up just short of a comeback in a wild 17-goal affair with the Cape Breton Eagles (23-29-3-1), falling 9-8 on Sunday afternoon.
Ivan Ivan led Cape Breton, tying the Eagles franchise record for points in a game with two goals and five assists in the win.
Samuel Johnson also had a strong game with a goal and three assists while William Shields and Angelo Fullerton had two goals each.
Eriks Mateiko had two goals to lead the Sea Dogs while Peter Reynolds had three assists and Luke Benoit and Alexis Cournoyer each had a goal and an assist each.
Oliver Satny made 29 saves to pick up a second win in back-to-back nights for the Eagles.
Olivier Brideau made 18 saves for the Sea Dogs before being replaced by Ventsislav Shingarov who stopped 19 shots in relief.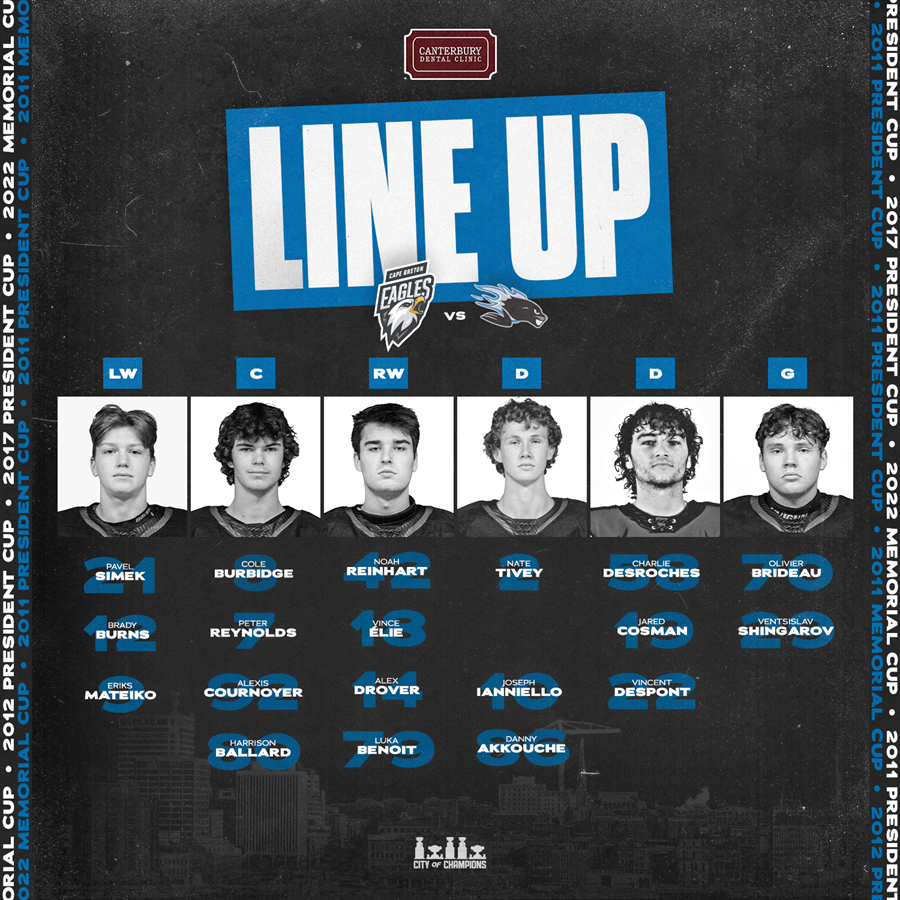 The Eagles struck 44 seconds into the game as Ivan set up Fullerton off the rush who put the puck past Brideau for the 1-0 lead.
Five minutes later, Ivan intercepted a pass in the neutral zone, skated in and put a shot on that Brideau batted down with his glove but Shields buried the rebound to put the Eagles up 2-0.
With just over six minutes left in the period, Charlie DesRoches fed Brady Burns a stretch pass for a partial breakaway, but he could not elevate it past Satny.
Just moments later, Cole Burbidge circled out with the puck from the corner, gave it to Nicolas Bilodeau who put a slap pass over to Mateiko who directed the puck past Satny to cut the lead to 2-1.
1:16 later, Cournoyer won a clean draw back to Vincent Despont who threw a pass from the point to Vince Élie in the slot who put a spinning backhand shot past Satny to tie the game 2-2 heading into first intermission.
Shots after the first were 15-13 for the Sea Dogs.
3:22 into the second, Despont took a point shot that Benoit tipped wide, but it came right back out to him and he put his second chance off the leg of Statny and in to give the Sea Dogs their first lead of the game 3-2.
The Eagles answered 1:46 later, crashing the Sea Dogs' net off a faceoff and Shields put home his second of the game to tie the game back up 3-3
Just under three minutes later, Zach Biggar found Ivan in the slot for a quick shot that beat Brideau to put Cape Breton back in front 4-3.
The Eagles kept the pressure on and four minutes later Johnson hit Squires with a breakaway pass and he put a great move on Brideau to tuck it home to make it 5-3.
Shingarov came in and relieved Brideau of his duties after he allowed five goals on 23 shots.
Johnson then potted one of his own 26 seconds later, taking a shot and getting his own rebound to extend the lead to 6-3.
Cape Breton continued to pile on as just 48 seconds later Olivier Houde set up Ivan on a 2-on-1 for his second of the night to make it 7-3.
The Sea Dogs got one back on the power play just over a minute later as Reynolds teed up Burns for a snapshot from the high slot that beat Satny to make it 7-4.
With some momentum of their own now, Saint John struck again 1:39 later as Nate Tivey put a point shot on that was stopped but Mateiko crashed the Eagles net to put home his second of the contest to pull the Sea Dogs within two at 7-5.
The Eagles killed that momentum with just under three minutes left in the second as Trevor Thurston put a high shot on through traffic that Shingarov got a piece of, but not enough, as it floated over the line to make it 8-5 Eagles after 40 minutes.
Shots after the second were 31-27 for the Eagles.
6:38 into the third Reynolds fired a sharp angle shot that Satny stopped but the rebound came out the opposite side to Joseph Ianniello who put the puck in the open net to make it 8-6.
The Eagles regained their three-goal cushion 1:21 later as Fullerton put a wrist shot from the faceoff dot past Shingarov to make it 9-6.
The Sea Dogs answered back 22 seconds later as Burbidge entered the Cape Breton zone and found Cournoyer with a pass past multiple Eagles players and he made no mistake beating Satny to make it 9-7.
Just over two minutes later, Saint John pulled within one as Noah Reinhart won a race to a puck that took a weird bounce off the end boards and jammed it past Satny to make it 9-8.
With just under five minutes to play, Fullerton and Ivan came down on another 2-on-1 and both got shots off only for Shingarov to come up with two big saves to keep the Sea Dogs in it.
However, Saint John could not muster one more goal to tie it and Cape Breton held on for the 9-8 win.
Final shots were 46-37 for Cape Breton.
Alpine 3 Stars
1 Ivan Ivan (2G 5A)
2 Samuel Johnson (1G 3A)
3 Olivier Houde (3A)
The Sea Dogs continue their stretch of road games this Thursday, March 2nd when they visit the Halifax Mooseheads. Puck drop is at 7 PM AST and you can listen to the game on Sea Dogs Radio presented by TD at CFBC 930 AM or watch at watch.chl.ca.
The Sea Dogs only have five more home games left this season so be sure to redeem your flex vouchers while they are still valid at the TD Station box office!